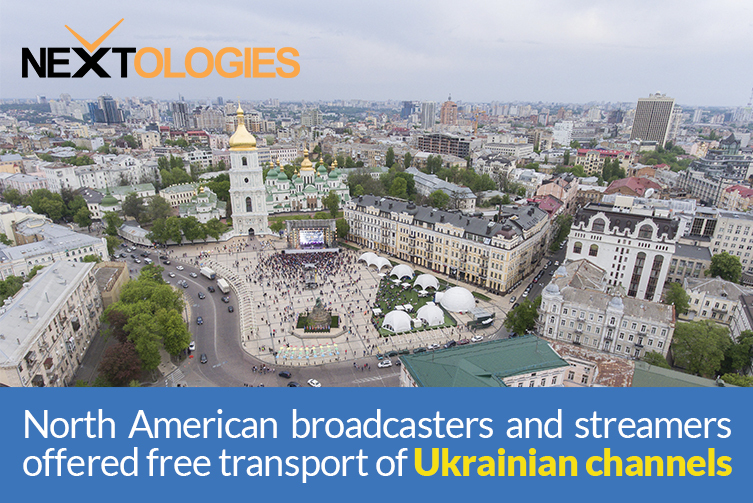 Nextologies provides free distribution of channels carrying "United News"
TORONTO - Nextologies LIMITED, a Toronto-based technology solutions company with one of the world's largest video delivery networks, announced today that it will make channels carrying Ukraine's' "United News" broadcast available to any North American broadcaster, IPTV, or OTT provider free of charge.
On February 26, 2022, the TV channels of several top Ukrainian media groups began broadcasting United News—a single channel of news, broadcast 24 hours on all participating channels. In partnership with the representatives of the Armed Forces of Ukraine, the National Security and Defense Council, the Office of the President and other Government structures, the TV channels are providing their signals free of charge to anyone capable of receiving that signal. Nextologies is making the feeds from the United News channels available to all partners. Broadcasters wishing to receive the channel should reach out directly to Nextologies.
"With our private fibre network, in combination with our fixed satellite network, Nextologies provides full-time redundant broadcast video delivery services to all of the major BDUs in Canada and MSOs in the USA," explains Sasha Zivanovic, CEO, Nextologies. "Those capabilities meant that we were the fastest, most secure path for Ukrainian channels to reach audiences in North America, and we're grateful to have the technology in place to provide that service."
Nextologies' network utilizes proprietary transport equipment, designed specifically for the broadcast industry, which can handle multi-service video and media applications, ASI and SDI (HD/SD), video transport, as well as IP transport on ethernet networks. Offering the only plug-and-play hardware of its kind in existence, Nextologies offers a simple and fast solution for any broadcasting or streaming service that wants to distribute United News channels, as well as any additional Ukrainian channels.
About Nextologies
Nextologies is a leading broadcast technology managed services provider, trusted by top broadcasters, enterprise corporations, and emerging companies to engineer, deliver, and monitor solutions that unlock their businesses' potential without requiring them to invest in new infrastructure.
Contact:
Juli Anne Patty
+1-416-736-7577 x347
julip@ethnicchannels.com
SHARE