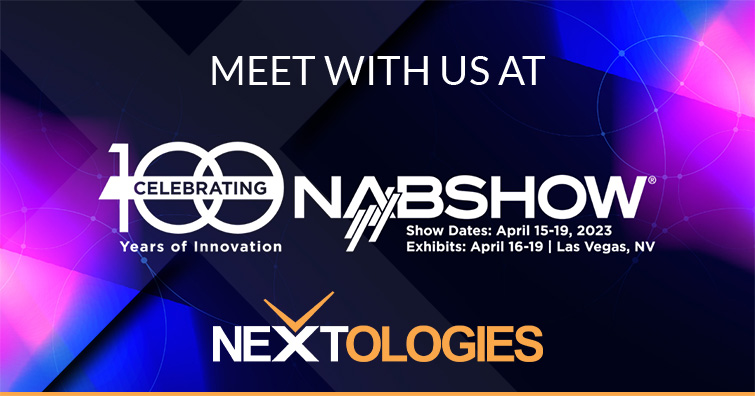 Nextologies will also debut new company 10TX, offering a new evolution of live event video distribution
Nextologies LIMITED, a provider of end-to-end solutions for live digital video management and maker of the award-winning HITC (Headend in the Cloud) live video delivery infrastructure, will be announcing the formation of 10TX, a new live event video signal distribution company, and will be providing demos of all its next generation solutions—all engineered to increase flexibility for clients to help eliminate interoperability headaches—at the 100th NAB Show (BoothW2959) in the West Hall of the Las Vegas Convention Center, April 16-19.
For the first time, Nextologies is making available to its clients the Nextologies Control Panel (CP), the intelligent operation system it built, and recently updated, to control its entire live and/or file-based audio/video transport infrastructure. CP controls everything within the Nextologies HITC infrastructure, which provides the backbone transport over any public or private network and includes the entire end-to-end suite of Nextologies' capabilities, including encoding/transcoding/playout to delivery. Within CP, clients can access all of the different features that one could ever need in a broadcast environment all in one platform. CP enables total visibility of signals from origin to delivery, as well as the ability to analyze and troubleshoot those streams at any point along the way.
The broadcast/streaming world is in the midst of digital transformation, which will enable all kinds of expansion and growth, but which can also be expensive and complicated. CP is engineered to accelerate that transformation through flexibility.
"We've designed CP around working with every possible standard, from traditional satellite and fiber delivery to IP, so as companies are moving to a cloud/hybrid environment, we are able to eliminate the need for specific manufacturers for encoding and decoding to get feeds out of the cloud," says Sasha Zivanovic, CEO, Nextologies. "With CP, all the possibilities are on the table: you could either get colocation in the cloud, install our software or buy your own servers and install our software. We make all of the hardware on our HITC network, but in some cases, our software will even control other people's hardware, eliminating the need to make that change."
CP can be deployed anywhere in the world, installed on any server, and it controls everything on the Nextologies ecosystem. With CP and HITC, companies are able to manage their entire video management and delivery process with one single vendor, rather than the typical solution, which requires cobbling together solutions provided by a number of vendors with varying degrees of interoperability. Many of Nextologies' clients, such as the Associated Press, prefer to let Nextologies manage the solution for them from end-to-end, including onboarding and troubleshooting, as well.

In addition to CP, Nextologies will be demonstrating a number of next generation capabilities, including
Nielsen watermarking is now included within Nextologies' broadcast encoders, enabling clients to deploy Neilsen without adding another device. The capability is also enabled on the Nextologies' cloud playout system.
Nextologies acquired the VCC (Video Call Center) in January 2023 and will be demonstrating its AirFirst and Caller Cloud capabilities, which log-free on-demand workflows (either DIY or managed by the Nextologies call producer team) for high-speed, high-volume control of live remote contributors anywhere in the world.
NexToMeet, Nextologies' instant web/mobile to SDI video network, which allows production teams to film interviews in any location with an iPhone or iPad webcam, has gotten an upgrade: NexToTalk, a communication system that can be embedded into any client's portal or to be used within CP, which works on any digital device and create an instant, lightweight communication system, from end to end, to any user around the world that might need to be part of a production, eliminating the need for old school telephone bridges.
The new Video Cloud Router, which makes it possible to seamlessly merge web video into broadcast workflows with a simple drag-and-drop in the cloud-based interface.
Nextologies Launches 10TX, a Live Event Signal Distribution Company
With a reputation for creating the next generation of custom linear signal transport solutions, executed over IP via the company's own hardware, software and infrastructure, Nextologies has teamed up with live event signal distribution veteran Keith Valeri and launched a new company that puts the CP and HITC signal distribution network to use in a new way - live event signal distribution. The company, called 10TX, officially launched in March 2023, hitting the ground running with a roster of clients and events, all of whom sought 10TX services because the company offers live events the same flexibility that Nextologies offers broadcasters/streamers. By providing distribution via all possible modalities, including traditional satellite, and fiber as well as over public internet, 10TX allows event producers to evolve their workflows securely and, at the same time, to get more out of every live event - more feeds, more footage, from more angles and to distribute to more takers in new locations.
For more information and to view the full 10TX press release, click here.
SHARE