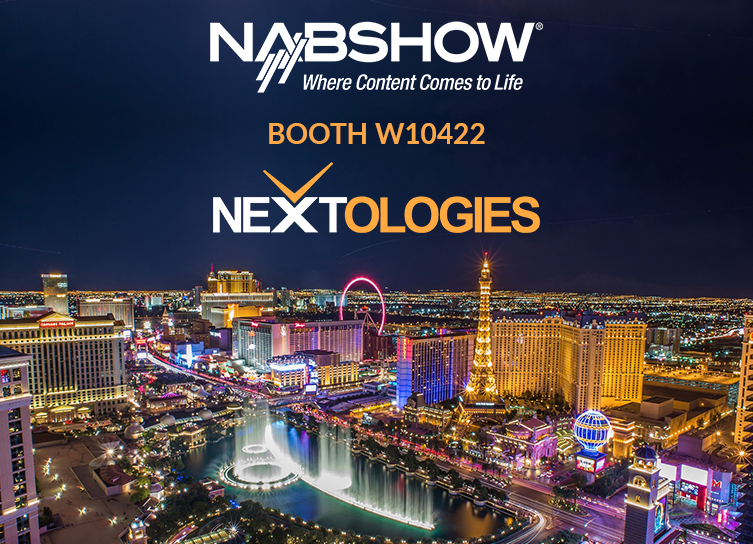 Advanced remote solutions enhance content, decrease costs, and increase revenue
At NAB Show 2022, Nextologies LIMITED will showcase two new solutions it has added to its ecosystem:a new auto commercial detection solution and NexToMeet, a remote production solution. Following the process that underlies all the company's innovation, the Nextologies technical team observed two critical challenges, and therefore opportunities, in the market, and developed custom solutions to address these unmet needs. The team will be demonstrating these solutions in booth W10422, April 24 - 27, 2022.
Auto Commercial Detection
The auto commercial detection solution, which the company is debuting at NAB Show, addresses a cumbersome challenge in the industry: how to do dynamic ad insertion without having SCTE because your playout does not support or have it.
The solution is a system that can analyze any live IP-based video stream and—in real time—detect and mark detected commercials with SCTE for downstream replacement, or can do the replacement on its own. Video on demand streaming lends itself easily to this kind of targeted ad insertion, but until now, there has been no workable easy and cost effective solution for linear streaming because the legacy systems had limited or NO SCTE inside the feed, which typical replacement engines must use to dynamically insert data-driven, customized advertising to viewers.
Incorporating addressable, or targeted, advertising into linear streaming has significant revenue driving potential. According to DoubleVerify's report, 'Four fundamental shifts in media and advertising during 2020,' 44% of consumers reported trying new brands after seeing a relevant ad, while 69% said they were more likely to look at a relevant ad to the content they are viewing. A solution that makes addressable advertising possible for linear streamers can only be effective, however, if it can be both accurate and scalable.
"The standard approach to resolve this problem is to use meta data (like SCTE 35/104 markers) to determine intervals and video information," explains Sasha Zivanovic, CEO, Nextologies. "These markers are inserted into the video stream on the production level, and then ads can be replaced within the marked intervals. In the IP-based video stream, those markers don't exist, but they will be required for downstream signal takers. So we developed a method to automatically identify the commercials and add SCTE where SCTE didn't exist prior."
The Nextologies auto commercial detection solution uses various conditions to identify commercials, which are then verified by a technician, either on the client's team or by a Nextologies technician. Once the system has been taught the particular characteristics necessary to detect ads within a particular stream, the solution can achieve 90 percent detection accuracy on the first pass of commercials. Using the mechanical turk service to flag commercials that slipped through the first time, the solution is able to achieve 100 percent accuracy, as well as always detect thereafter those commercials that slipped through initially.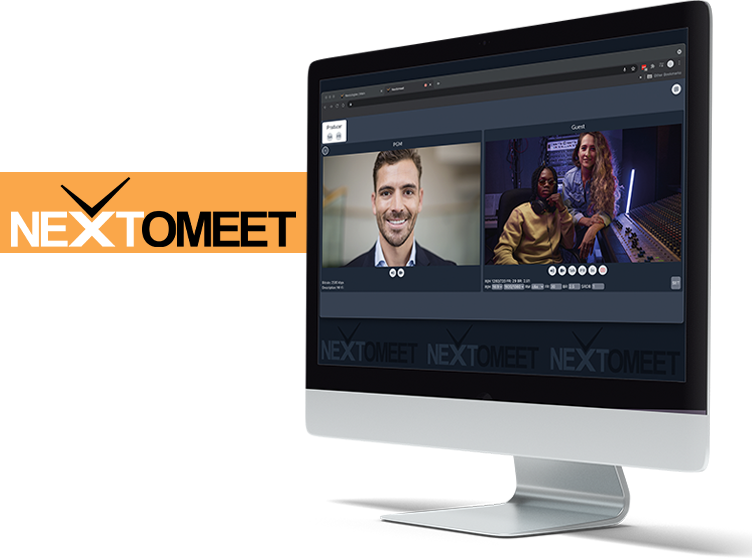 NexToMeet
NexToMeet eliminates a lot of the headache in a traditional remote production workflow by being engineered specifically to do exactly what is needed without all the equipment, apps, custom setup, passwords, and workarounds.
NexToMeet is an instant web/mobile to SDI video network accomplished by implementing custom video solutions, along with IP stream's routing capability, to allow production teams to film interviews in any location with an iPhone or iPad webcam, then deliver that signal directly to SDI, no workarounds required.
"Even prior to the pandemic, sending equipment to remote locations for interviews was expensive and complicated, requiring at least one expert to go along to run the equipment, as well," explains Zivanovic. "iPhone cameras are actually quite good, but there was no easy way to interact with a production switcher or get that camera with a clean output on the receiving side. In addition to that, multiple-person interviews must each be on a separate SDI output. None of the existing video conferencing solutions could meet those specs without adding multiple computers to get seperate SDI outputs for each guest; They simply weren't built for it. We built NexToMeet for broadcasters to make their lives and work easier."
NexToMeet incorporates the latest network and video processing technologies that, when combined, resolve major remote production challenges:
Translation of the web or mobile device based video to SDI broadcast workflow and vice-versa
Complicated network rules or firewall rules in place that required IT department engagement for setup or every ad-hoc event
The need of manual intervention from laptops connected via HDMI to SDI using scan convertors
Lack of ability to have external or remote producers to be part of the production
The need for many applications to achieve the same type of setup , i.e. Zoom, Unity, Discord, vMix, etc.
Another key feature critical to the technology's success is extremely easy onboarding of guests and producers. Within less than a minute, guests with no technical training can be fully on-boarded, requiring only browser access to the Internet. No need for cumbersome applications and no logins required.
The second most critical feature is remote producers. Now anyone can be a part of the production by being able to have instant audio chat (and future text chat) directly with other producers in the room or interact with the guest all without having to be on camera.
"We're not just technology people at Nextologies," explains Zivanovic. "We're broadcast technology people. We didn't wake up one day and say, 'Hey, let's try making software.' We were asked by partners to solve their problems. So, with our broadcast experience and working in partnership with our clients, we can identify exactly what capabilities need to go into a solution. That's how NexToMeet was born."
Delivering everything a Top Tier broadcaster expects in production software, but affordable and user-friendly enough for a home production, NexToMeet has no limits on what it can customize for its clients and includes basic features like
IFB
Audio mute
Program/preview
Interoperability with SDI and future (SMPTE2110) for seamless production workflows
NexToMeet helped a number of tier one clients continue their productions, uninterrupted, without having to change their formats or add more staff to handle remote interviews. But, even as the pandemic restrictions have changed, the use of NexToMeet has expanded.
"Now that the pandemic has increased the media world's comfort level with remote production, from production teams to show guests, our clients can now take advantage of all the additional benefits NexToMeet provides," says Keith Valeri, project manager, PSSI. "Because the solution is so simple, requiring one click and using their own phone or iPad, guests know they can say yes to an interview, no matter where they are in the world, and it won't be a huge hassle. We also save the time and expense of sending out engineering crews and satellite trucks to the site, and clients always appreciate saving money."
SHARE