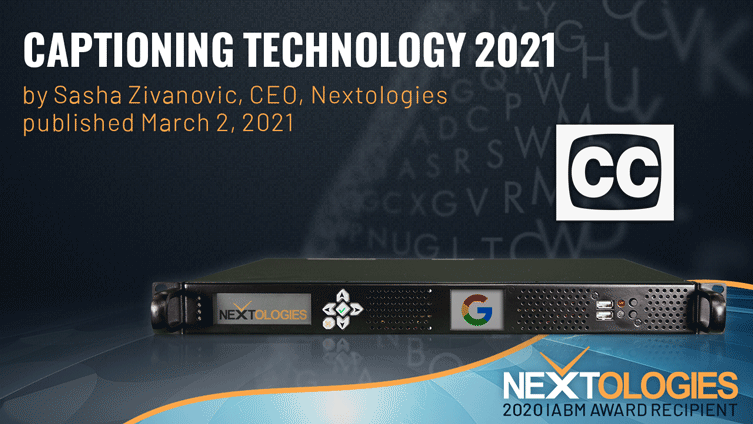 New Innovations for Captioning add Logic and Accessibility for Broadcasters and Content Owners
By Sasha Zivanovic, CEO Nextologies
Captioning for broadcast television has been around since 1971. Since then, the technology has allowed millions of hearing-impaired households in the U.S. the ability to enjoy live television. The very first prime time show in the U.S. to utilize captions was the popular series, The Mod Squad on ABC. By 1982, the technology evolved enough to enable real-time captioning for live broadcasts including live newscasts, live sports, and events. In 1992, the FCC mandated that all television devices and shows be caption-capable.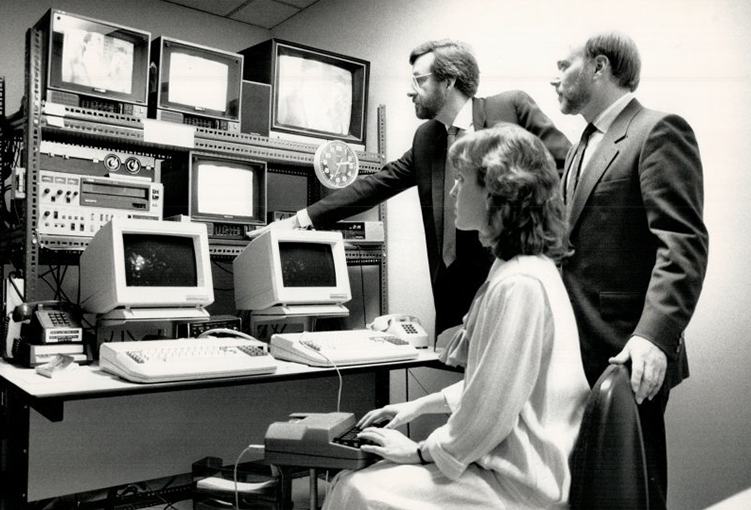 In 1988, three Canadian Captioning Development Agency employees watch television monitors in a studio where closed captioning is done.
I'm not viewing, I'm reading!
The captioning technology we see now is certainly automated for most content; and even non-hearing-impaired individuals know how to enable the CC button on any device. How many of you have watched Outlander or Game of Thrones using captions to have a richer experience? And thanks to the hearing-impaired community, we can watch captioned programming in gyms, airports, sports bars and other public noisy environments.
While television has evolved by leaps and bounds, captioning technology has remained fairly stagnant. Many broadcasters are still utilizing hefty encoder equipment, multiple devices and vendors. Caption company vendors have their own devices and workflows -- caption inserters, Evertz cards, RS232 connections. And that's just a start! This clunky equipment takes up a lot of space, and in the case of live sports and breaking news events, human stenographers are still the standard, some with the capacity of typing 250 words per minute using specialty-designed keyboard devices. The cost of this equipment and staff can be daunting for content owners.
Google to the Rescue
As a technology executive, and a total geek myself, I am always looking for new ways to help my clients save money and streamline their processes. I have a vast background in multi-cultural television signal transport and delivery. We take international video channels from points in Europe, the Middle East, and Asia to content platforms in Canada, North America and around the globe. At any given time, we are moving 5,500+ services to 500+ locations. Most of these services require closed captioning (not to be confused with subtitles, that is considered open-captioning) and these mandates can be cost-prohibitive, especially for live broadcasts.
Google's Voice-to Text software interface technology for captioning generation completely automates the captioning workflow by utilizing the same encoder appliance that our clients already have in-house. This is a real game-changer for content owners. Imagine going from a 4 or more-rack unit to a 1-rack unit (that was already allocated) to one, small box equipped with SDI to IPTS encoding that can handle all their caption AND encoding needs.
Additional features include the option of SDI-to-SDI processing and the ability to process both 608/708 captions. Another benefit is the elimination of cumbersome RS232 connections and additional caption hardware.
Even though Google captions are about 80% accurate in complicated audio environments, and almost 98% accurate in single voice audio, it is better than NO captions at all. More importantly, it is significantly less expensive than the traditional methods.
We have clients that are using this solution to streamline their workflows. By removing third party offline captioning services and moving to a full-time active captioning environment, they eliminate the need to upload content to another provider. Now they can seamlessly push their captioned content directly to the playout automation software.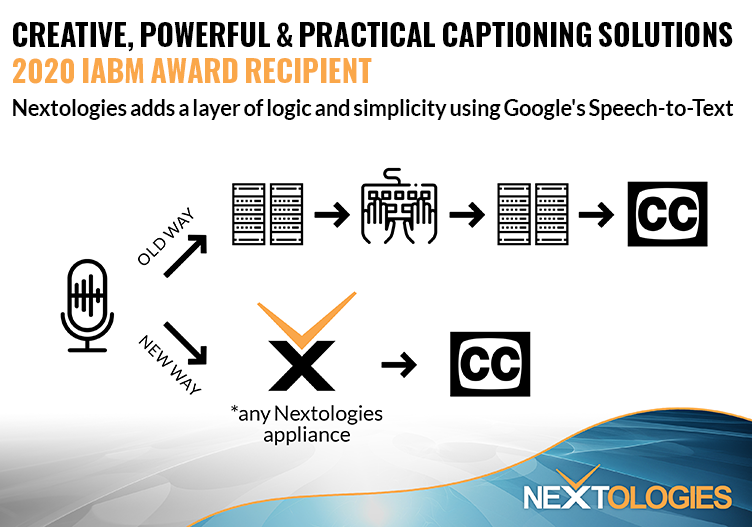 The Tech of It
This new transition into efficient and automated captions will soon include instant translation, which is terrific for multicultural broadcasters, as well as DVB subtitle support.
Saving the best for last, by utilizing the same Google API, we can do translations into other languages. All these great features are contained in the same one-rack unit box that our clients already have installed for delivery of their signal around the world.
As you can see, these new advances will make closed captioning a much more seamless process for content creators and owners. Not only will broadcasters remain compliant with FCC and other standards, but they will also save money on hardware and vendors, and potentially save an immense amount of time by skipping unnecessary steps.
SHARE