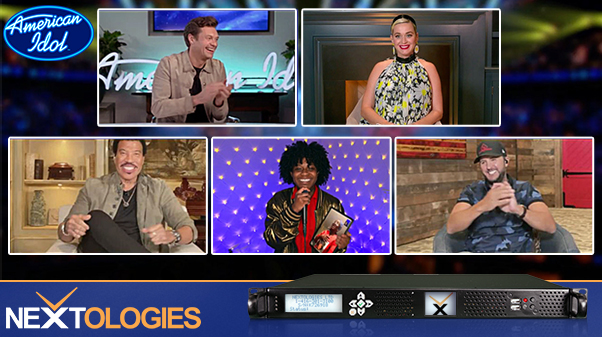 Technology beats COVID-19 Challenges for Groundbreaking Broadcast
With COVID-19 dramatically changing the way television is produced, PSSI Global Services and Nextologies teamed up to engineer a one-of-a-kind American Idol finale to viewers nationwide.
Due to social distancing measures and restrictions on large gatherings, the contestants and judges could not meet in one location for the finale, dramatically increasing the complexity of the project. To meet this challenge, PSSI had transmission vehicles and engineers at the final contestants' homes across the country, multiplexing two cameras. The company also had transmission vehicles and engineers at the homes of the judges - Katy Perry, Lionel Richie, Luke Bryan - and host, Ryan Seacrest, again multiplexing two cameras.
Meanwhile, in Burbank, California, PSSI had its CK35 mobile teleport outside the production studio to receive all the remote feeds and send back the hosts to each location, as well as provide ABC with the network backhaul. All remote and return feeds were transmitted on three transponders of Eutelsat 113 West A, using PSSI International Teleport as a point of access for PSSI's remote engineers.
PSSI called in Nextologies to deploy its NXT-4 equipment to eight of the locations. This technology enabled the American Idol production team in Burbank to robo-control each camera remotely by tunneling into the cameras via public Internet. Nextologies also provided American Idol producers around the world with an encrypted web portal to watch rehearsals and the live show.
"Pulling off an event of this level of complexity requires the right technology and a tremendous amount of project management and engineering expertise," said Matt Bridges, Strategic Television president at PSSI. "PSSI has the resources to take on any broadcasting challenge, and our success on this project is a testament to the experience and talent of our team. This was a great opportunity for us to do what we do best - find solutions."
Sasha Zivanovic, CEO Nextologies stated, "I am beside myself with pride at the level of professionalism, skill and cooperation that my team and the PSSI team brought to this important project. We could not have pulled this live event off without a tremendous amount of cooperation between the two companies, and I am so excited to collaborate with PSSI again on future projects together."
SHARE